New Haven Off Site Shredding
New Haven Shredding & Records' off site service options will send a secure truck to your Connecticut location, pick up your private files, and shred them at a local facility. Shredding facilities house industrial shredders that can demolish 20,000 pounds of paper an hour. Your documents are fed into this shredder, and the bits are mixed in with thousands of other documents for extra security.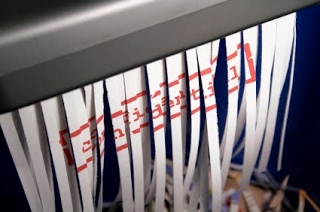 The process begins as uniformed security professionals working with New Haven Shredding & Records pick up your secure documents from your location in locked trucks, guarding them until they arrive at a secure shredding facility in New Haven.

Upon the arrival of materials for destruction, the containers are weighed for record keeping. Once recorded, they are staged to begin the shredding process. The material is fed directly into the shredder and the scraps are baled.
Once materials are baled, they are shipped directly to a paper company where the shredded byproduct is turned into pulp to make other recycled products. A certificate of destruction is issued with the certified weight, confirming that your documents were destroyed in compliance with all Connecticut and federal privacy laws.

Get Free Quotes on Off Site Shredding Services in New Haven and Hartford Today!
New Haven Shredding & Records can help you with any sized shredding job. Your security is our priority. For more information on our services offered throughout Connecticut, please fill out the form on the left or call us at (203) 493-3595 for free quotes.