New Haven Shredding & Records
New Haven Shredding & Records is dedicated to providing cost-effective solutions for your business' security needs. We understand the need to protect your sensitive documents and for your business to comply with all state and federal regulations.

About New Haven Shredding & Records
New Haven Shredding & Records' network has the proper tools and know-how to quickly and affordably destroy all of your sensitive information. Our contractors have efficient processes and capable hands working hard to ensure your private information stays safe.

What is a Certificate of Destruction?
Shredding your sensitive business documents is only half the battle. If any of your employees experience a data breach or become victims of identity theft, make sure you can back up your claim of proper destruction regarding private information. Make sure your shredding service supplies a Certificate of Destruction.
Our partners have industrial shredders that can handle anything, from one box to one thousand. We will help get your shredding job completed in no time, and our contractors provide you with a certificate of destruction to verify that it was completed in compliance with all Connecticut and federal privacy laws.

New Haven Shredding & Records offers numerous shredding service options designed to meet virtually every client's requirement at reasonable prices. To receive free, no obligation quotes on shredding in New Haven and all over Connecticut, give us a call at (203) 493-3595 or fill out the form on the top of the page.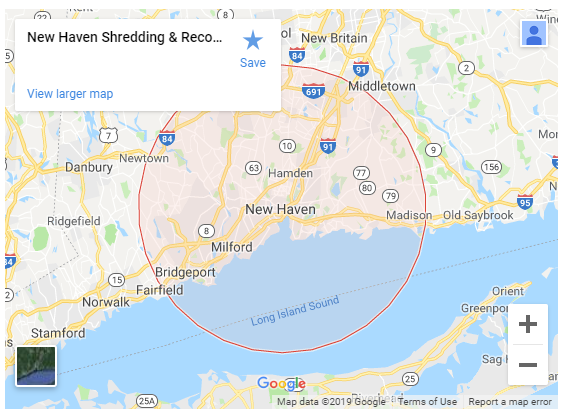 Get Free Shredding Quotes in New Haven
Shredding Services in New Haven
Service Options Available in Dallas
Ongoing Service – Weekly, monthly or quarterly scheduled services. If you regularly accumulate sensitive documents that need to be shredded, you are given secure bins to place around your office. Fill them up with your paperwork overtime, and a driver will routinely visit your site to shred the contents.
Purge Service – Annual, one-time or occasional shredding services are available. If you have collected a few boxes worth of paperwork, a driver will make a single stop at your location and shred it for you. Costs are based on volume.