Mobile Shredding Services in New Haven
New Haven Shredding & Records will have a secure mobile shredding truck drive right to your New Haven office. It is all the convenience of industrial shredding right at your curbside. Shredding trucks are totally self-contained and can operate without any outside power source. They can do in an hour what it would take you a month to shred with a normal office shredder.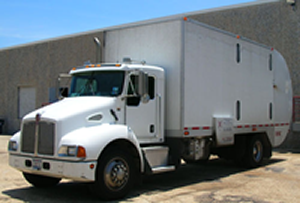 If you prefer to watch your documents being shred, on-site mobile shredding solutions are for you. Mobile shredding trucks are configured so that you can watch your materials being destroyed. The shreds end up in a secure compartment of the truck and are transported to a New Haven recycling plant.
The trucks shred 6,000 pounds an hour so most jobs only take a few minutes – in less than 15 minutes, shred trucks can perform any typical office shredding purge, from one box to one hundred boxes.

How Mobile Shredding Works in New Haven
STEP 1: Gather the materials you need to shred.
STEP 2: A truck arrives at your location and your paper is shredded into a sealed compartment in the back of the truck. You can witness the entire process.
STEP 3: A certificate of destruction is provided for your compliance records.
STEP 4: Shredded and compacted materials are recycled into new paper.

Get Free, No Hassle Quotes on Mobile Shredding Services in and Around New Haven Today!
Mobile shredding services are convenient and secure. The trucks are equipped with industrial shredders that make large shredding jobs fast, and they contain all of the mess. Let New Haven Shredding & Records help keep your private information private, just give us a call at (203) 493-3595 or fill out the form on the left for free quotes.