Hard Drive Destruction Service in New Haven
Just like paper files, electronic files store private information. Electronic media can sometimes be an easier format for thieves to steal information from. Hard drives are often forgotten as a source of leaked private information, and that makes them all the more tantalizing to identity thieves.
To keep you, your family and your New Haven business safe, be sure to destroy your hard drives completely before they leave your possession. The destruction of your hard drives and other electronic media is actually required for compliance with Connecticut and national privacy laws such as HIPAA.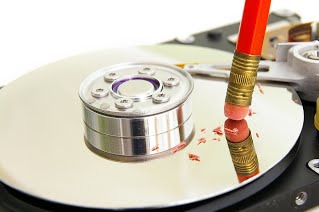 To be sure your private information is unrecoverable there is no better way than to physically destroy the hardware containing your digital media. Deleting your files is not good enough—free software exists that allows the extraction of deleted files, so people can still access the information.
Luckily, New Haven Shredding & Records offers hard drive destruction service options that can be completed on site or at a secure New Haven plant. Our contractors shred your hard drives to pieces, and melt down the scraps for metal recycling. This ensures complete destruction.
There are mainly three reasons why hard drive shredding is a better solution.
Security: there is a focus on keeping data secure through the whole process. The process complies with regulations, such as HIPAA, and overall maintaining clear form of confidentiality.
Time Efficiency: the process focuses on your needs, so you can drop off your hard drives or, depending on local providers, simply have someone come pick them up.
Cost: The entire process is easy and affordable. Most hard drive shredding services cost about $4-$12 per drive. The cost incurred go towards completely covering electronic assets.
If you are thinking of shredding your hard drives, remember they are not only found in computers. Don't forget all of the hidden hard drives in your office. Copy and fax machines have hard drives that must be shredded before they are sent off to the recyclers.
These devices store digital images of what has been scanned, and those images can be recovered. Magnetic media of all kinds must be destroyed. This includes tapes, CDs, USB thumb drives and anything else that stores information.

Get Free, No Hassle Quotes on Hard Drive Destruction in New Haven, CT Today!
New Haven Shredding & Records partners have the necessary tools and know-how to quickly and completely destroy your electronic data. Don't risk your private information being leaked. Contact us at (203) 493-3595 or fill out the form on the left for free quotes on your next shredding project.